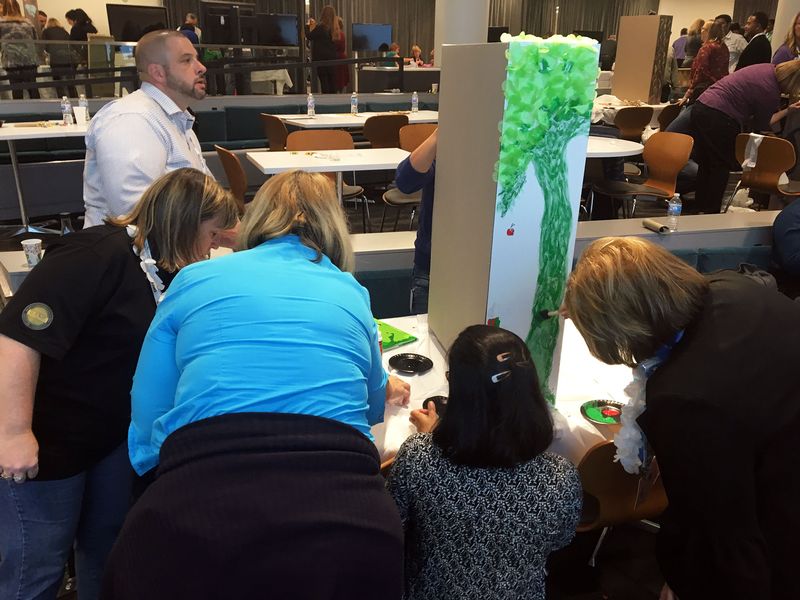 Create and donate bookshelves for children in Norwalk
Looking to support early childhood reading in Norwalk? The philanthropic activity, Bookworm Builders, is a fun team building challenge that can help your group give back to kids in the community
Request More Information
In this charity challenge, participants work in teams to assemble and paint bookshelves for boys and girls in need. As you move through the stages of this activity, you'll also be tasked with completing a series of challenges in order to earn additional decorations, paint, and supplies for your bookshelves. In the end, teams will take turns to present their completed bookshelves to the rest of the group, and vote on who they think put together the most awe-inspiring creation.
If you're interested in a fun indoor team building activity that can help you give back in Norwalk, then look no further than Bookworm Builders!
Bookworm Builders will help participants:
Collaborate and work together more effectively
Communicate better in a time-sensitive situation
Feel good about giving back to the community
Compete in a friendly and fun charity challenge
Directly support children's reading in Norwalk
How It Works
There are three stages of Bookworm Builders.
Stage One: To get set up, your group will need to split into teams. You can team up based on different departments, or mix people up to encourage mingling!
Stage Two: Each team will need to assemble and customize one bookshelf for charity. To earn supplies, accessories, and decorations, teams will need to complete a variety of fun physical and problem-solving challenges.
Stage Three: Present your completed bookshelves to the rest of the group, and vote on which team put together the ultimate charity donation!
We can run this event anywhere, in any time frame, for any group size:
We are flexible as to where the event takes place, with most of our groups choosing a local hotel conference room as their preferred venue. It makes for a great transition after a morning meeting session.
We typically require three to four hours with your group with the actual activity lasting approximately two to three hours, although this is completely flexible.
And yes, like almost all our team building activities, this event is completely scalable for large groups of any size.
Your investment includes:
Full-service Bookworm Builders event package
Complete pre-program communication, including liaising with venue (we can help you source many – hotels, resorts, and venues in Norwalk)
On-site professional event leader and friendly event hosts
Everything needed for the activity, including all materials and specialty items
Post-event recap and team achievement and award recognition
Delivery, set up, management, and break down of event
Keep in mind that for really large groups with tight budgets, we're fantastic at coming up with a solution that will work for everyone.
Request More Information
Key Facts
Activity Level : Non-Active
Competition Level : Competitive
Desired Outcome : Fun
Event Length : 1 – 2 hours
Investment Level : Premium Hosted ($100 – $305pp)
How much does this event cost?
Pricing for our full service team building events like this one depends on factors such as your group size and preferred event location. For the majority of groups we work with, pricing ranges from $55 to $260 per person. For smaller groups we do have a minimum total investment level of $5,200+. For premium hosted events (Charity Bike Buildathon, Bookworm Builders, School Supply Scramble, Military Support Mission) we have a minimum total investment level of $6,100+. For larger groups we'll be as flexible as possible to work within your budget. Pricing does not include any venue or location rental fees.
Contact us for a fast and personalized proposal that addresses your program specifics, group dynamics, objectives and budget.
Reviews for Bookworm Builders
" Our team had a great experience! Your team was extremely organized, well-spoken, and prepared for each step in the planning and execution. 10/10! "

– Accenture
" The fact that this activity makes a charitable donation says it all! Your team was amazing and flexible with us. You went above and beyond to prepare this event so it truly fit our needs. "

– Bill & Melinda Gates Foundation
" From the very first conversation, each person on your team exhibited professionalism. They each provided all information requested, explained the event in detail, arrived on time, and exceeded expectations on event day. Thank you for providing our team with this amazing event and charity opportunity. "

– Verizon
Get the team building activity help you need today!
Contact our team at 1-877-713-7238 to discuss what you're looking for and experience for yourself why people who plan team building activities for the most successful companies in Norwalk rely on our talented team. Whether you have a large group of 1000 plus, or something much smaller, we can help. And if you require it, all our activities are available in a bilingual format!
Need a detailed proposal right away? That's our specialty.
Part of an independent meeting planning firm? See why a meeting planner partnership with us and our vast array of group activity solutions makes great business sense.
Download Our Guide to Innovative Corporate Team Building Events
Looking for a unique corporate teambuilding event in Norwalk or group activity your clients will get excited about? Have a look at the team building ideas we provide to successful and emerging companies from around the world. They are all designed to improve morale, increase camaraderie and enhance productivity.
Recent Client Feedback
We thrive on helping our partners achieve their goals through our unique and innovative suite of corporate team building events and group activities. Feedback like this is what we strive for every time!